MISCELLANEOUS ITEMS.
Replacement Throttle Position Sensor (Potentiometer).
We developed a throttle position sensor kit for early V12 HE and 3.6 engines to replace the original item listed under part number EAC 2670 but which is no longer available. Throttle position sensors eventually wear out as they age and are a common cause of vague and erratic drivability problems, such as hesitation and flat-spots during acceleration. Recently revised to ease fitment and improve reliability, the kit uses a modern sensor and includes an adaptor plate, mounting screws and shaft coupling, so the complete assembly fastens directly in place of the original, as shown mounted on the underside of the V12 throttle assembly. Fitting instructions are included.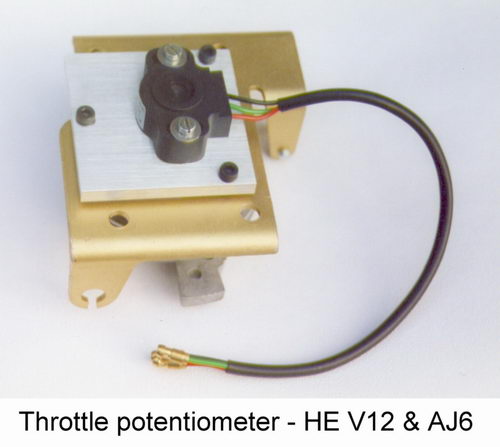 Boost Box.
This electronic module was designed for supercharged engine conversions and works on the back of the existing fuel injection and ignition systems, to provide extra fuel and retarded ignition timing according to boost pressure. This allows a reasonably high compression ratio to be used and for off-boost ignition timing to be sensibly advanced for good cruise economy and response. The BOOST BOX monitors engine speed and boost pressure so that as the engine comes onto boost it provides alternative current paths for the injectors and ignition coil thereby extending the injector pulses and applying a retard factor on the ignition timing. These two parameters can be adjusted independently by screw trimmers, as can the point at which they commence to function. Made to special order.
Something new - Shhh!
This is just a taster of something we will be announcing soon. It opens up new possibilities for induction system development on many engines. All we can say is that it works and we are getting quite excited about it.
High Performance Air Filters.
All of our induction system upgrades include low loss re-usable air filters which only need washing at service intervals instead of renewal. V12 conversions except the XJ40 6 litre saloon all use our unique foam filters incorporating the same metal carrier as the factory filters. This provides best durability in service - we found that moulded edge filters sometimes break up under the clamping loads of the V12 filter boxes. These foam filters are specially made for us to our specification and are not available from any other source.
For other installations we use the most suitable filter from either K & N, JR (same as K & N except for colour) or Pipercross. We can provide performance filters from one or other of these manufacturers for any engine.
Ignition & Injection Tester.
This is our longest running product - first introduced in 1985 - and thousands are in use. Hundreds were supplied to the AA for their patrol vans and many more have been sold through the Lucas network. Just a simple no-nonsense test box, in one mode it is a pulse generator that can fire coils, injectors, relays and other devices and mimic trigger signals into early EFI and electronic ignition systems, or it can be switched over to detect pulses within a system on test. A flashing LED and bleeper provide visual and audible evidence of each pulse sent out or detected. The two modes of operation provide the following functions:-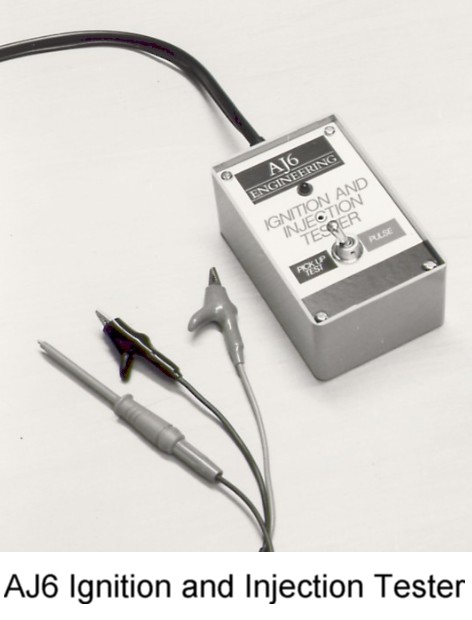 PULSE GENERATOR
In this mode artificial trigger signals can be introduced into various points of the circuit under test. In this way injectors of many systems can be fired collectively or individually by either direct pulsing or via ECU trigger inputs. Relays and other solenoid devices can also be activated. Similarly the ignition system can be made to produce sparks by pulsing either the coil negative terminal or the amplifier pickup input. All such pulse tests can be performed without the engine running and the serviceability of many individual components can be quickly ascertained without recourse to complicated analytical procedures. An LED indicator flashes and a bleepcr sounds as each test pulse is fired, at a rate of about 5 per second. The action of the LED and bleeper changes when applied to the supply voltages to aid continuity and polarity checks.
PULSE DETECTOR
The presence of trigger pulses at various point of the system can be determined whilst the engine is cranked over. This function is particularly useful for checking out ignition, speedometer and ABS pickups, of either inductive, Hall effect, or optical type. The LED and bleeper simultaneously confirm the presence of pulses.
The instrument is supplied with full instructions for use but the following book is highly recommended as a companion. There is a 20% discount of the book price when ordered with the Tester.
"Understanding Electronic Fuel Injection, Ignition and Engine Management" - the book that explains it all in simple words.
Written and published by us this is THE book for anyone who wants a proper grasp of the subject. Describes how these systems evolved and builds on the basic principles from early Bosch D Jetronic Fuel Injection, the ancestor of them all, through to modern programmed systems encompassing ignition, idle speed control, self diagnostics and so on. Not only how they work but why they became necessary, how to make adjustments and how to trouble shoot them. Also deals with fuel handling, combustion, exhaust emissions, gas analysis diagnosis, etc. all in the same forthright manner. Over 100,000 words with many diagrams and illustrations.
Equally suitable for the professional technician or the enthusiastic amateur, the following list of contents describes all the subjects covered.
Chapter 1. THE FUNDAMENTALS - COMBUSTION, FUELLING, IGNITION, and EXHAUST EMISSIONS.
The combustion process. Detonation, pre-ignition & pinking. Combustion chamber layout. What the engine expects from fuel and ignition systems. Emissions HC, CO, NOX etc. EGR, Lambda and LAF sensors. Catalysts. Lean burn. Economy. Evaporative loss control.
Chapter 2. FUEL HANDLING.
Basic principles. Tanks, breathers, vapour traps. Fuel pump and control. Recirculation principle. Twin tank systems. Pressure regulation. Pulsation damping. Injectors - construction, flow rates, failures. Single Point Injectors.
Chapter 3. THE AIRFLOW TRACT.
Intake ducting. Noise & resonance chambers. Variable geometry. Throttle assembly. Idle speed control. Over-run valves. Tuned ram manifolds. Injector location.
Chapter 4. EFI ELECTRICAL OPERATING PRINCIPLES.
Injector Pulses. Injector action in detail. Injector drive circuitry. Injection timing, sequential injection. Over-run cut off. Sensors. ECU principles. Analogue and digital differences. Fuel laws and maps. Interference screening.
Chapter 5. FIRST GENERATION ELECTRONIC INJECTION.
Bosch D Jetronic - ancestor of them all. Sensors. Triggering. Cold start injection. Jaguar V12 variant 3CU. Problem areas. Lucas Epitest.
Chapter 6. SECOND GENERATION EFI - BOSCH L JETRONIC AND FRIENDS.
L Jetronic principles. Flap airflow meter. Problem areas. LE Jetronic. Electronic idle speed control. Lucas L 4CU (Rover V8). Lucas P 6CU, 8CU (Jaguar V12, 3.6 XJS). Mercury Marine V6.
Chapter 7. THIRD GENERATION EFI - ELECTRONIC SOPHISTICATION.
Understanding microprocessor based systems. Adding features to the program. Memory, EPROMS, etc. Bits & Bytes. Sensor scanning. Practical mapping. Lucas 16CU (Jaguar V12). Idle speed control considerations and solutions. Hot wire airflow meter. LH Jetronic. Lucas hot wire (Rover Montego etc.) Adaptive memory. Fault detection. Limp home. Data logging. Lucas 13 & 14 CU (Rover V8). Lucas 26CU (Jaguar V12). Single Point Systems, Bosch Monojetronic etc.
Chapter 8. THE IGNITION SYSTEM.
The contact breaker system - why it is no longer good enough. Early transistor assisted types. Triggering methods and pickups. Lucas Opus. Constant energy types. CDI. Programmed advance curves - influence on power, economy and emissions. Lucas digital. Ford DIS. Microprocessor systems. Knock sensors. Octane plug. Load sensing. Multiple and missing tooth triggering methods. Rover system. Bosch. Ford ESC 2. Marelli Digital. SAAB Direct Ignition.
Chapter 9. TRUE ENGINE MANAGEMENT - FUEL AND IGNITION ALL IN ONE.
Advantages of an integrated system. Basic principles. Bosch Motronic. Ford EEC1V - 2.9 & Zeta variants. Rover MEMS. Honda PCM-PI, V-Tec, LAF sensor, Dual Point Injection. Toyota TCCS. GM system. Lucas 9CU (Jaguar 3.6). Lucas 15CU (Jaguar 4.0). Things to come. Drive by wire. Advanced fault detection and diagnosis. A note of caution.
Chapter 10. DIAGNOSIS, FAULT FINDING AND ADJUSTMENTS THE TRADITIONAL WAY.
Basic approach to diagnosis. Dead Engine faults. Running engine faults. Exhaust gas analysis as an aid to diagnosis. Catalysts. Spark plugs. Fuel handling faults. Air tract faults. Electrical faults. Ignition.
Chapter 11. DIAGNOSIS, FAULT FINDING AND ADJUSTMENTS THE HIGH-TECH WAY.
Trouble in store? - the drawbacks of high technology. Manufacturer's plug-in diagnostic techniques. Typical evolution path - Rover FastCheck-Cobest-Microcheck-TestBook. Similar solutions for the independent garage - Survey of scanners - Datacheck, Code Reader, AutoScan, Laser 2000, Snap-On MT2500, Crypton CheckMate, etc. The break out box. Oscilloscopes.
Chapter 12. FACTS, MYTHS, OLD WIVES TALES AND DOWNRIGHT LIES.
Power claims - how to see through them. Performance camshafts. Acceleration times and maximum speed. More fuel, boost and power. The low down on chip tuning. ECU repairs and dubious checking methods. Aftermarket catalysts. Bogus economy and performance enhancers. Big talking Walter Mitty the engine designer.
Appendix 1. GLOSSARY OF TERMS.
12 pages explaining technical terms, buzzwords etc.
Appendix 2. ON-BOARD DIAGNOSTICS.
The story of the important diagnostic standards OBD1 & OBD2 devised by the California Air Resources Board and now accepted World-wide.
Appendix 3. THE AJ6 IGNITION & INJECTION TESTER.
An established and easy to use instrument that can fire coils, injectors, etc. and detect pickup trigger signals.
Appendix 4. BASIC TESTS WITH A MULTIMETER.
Using an inexpensive multimeter to check through a system.
Appendix 5. THE LABORATORY OSCILLOSCOPE - AN INEXPENSIVE AND VERSATILE INSTRUMENT.
Introduction to the conventional laboratory oscilloscope. How to use this very useful instrument to look at what happens in an automotive system.
Injector Connectors.
The plastic connector shells don't last forever and the terminals inside can become contaminated or lose contact pressure, leading to erratic operation. We can supply kits of 6 or 14 shells complete with terminals and rubber boots to overhaul engine wiring to injectors and temperature sensors.